"Mamas Caffeinated Cup is a participant in the Amazon Services LLC Associates Program, an affiliate advertising program designed to provide a means for sites to earn advertising fees by advertising and linking to amazon.com." We may also earn a small commission at no cost to you for recommending other products or services on this blog. All opinions remain my own.
We had our first fall day this weekend and it instantly makes me want to grab a cup of coffee and sit outside by a fire. Everyone immediately thinks of pumpkin spice but that's not all fall reminds me of. In this post, I am going to share my favorite fall coffee recipes.
I hope you can find one to cozy up by the fire to and enjoy.
This maple cinnamon latte from Port and Finn is delicious. Make this latte your pumpkin spice replacement.
Its coffee, milk and maple syrup, as Port and Finn say "its fall in a cup".
See why maple syrup in your coffee is better than sugar.
So this is a twist on the regular old pumpkin spice by adding the vanilla. Its coffee, pumpkin syrup, vanilla syrup, whipped cream, and cinnamon. Yum. This one is a must-try. Thanks, Brooklynn active mama for posting this recipe.
This Starbucks copycat recipe by Tina at The Work Top will defiantly get you in the sweater-wearing fall mood. This drink is espresso, dark brown sugar, sweetened condensed milk, butter, heavy cream, maple syrup, and sea salt.
Le Petits Eats posted this latte and it makes my mouth water. Who wouldn't want a coffee drink that has chocolate syrup, graham crackers, toasted marshmallows, and milk. This one right here is campfire approved.
This iced coffee from Mostly Homemade Mom hits the spot for sure. If you love iced coffee, this one is a must. Cinnamon and maple mixed with vanilla coffee and whipped cream makes this an iced coffee fall favorite.
You need to try this copycat Starbucks salted caramel mocha that delightful-e-made came up with. It looks like desert in a cup. Coffee, caramel, chocolate chips, salt, whipped cream, and milk are what you will need for this one. This is a perfect fall pajama porch sitting kind of morning under a blanket.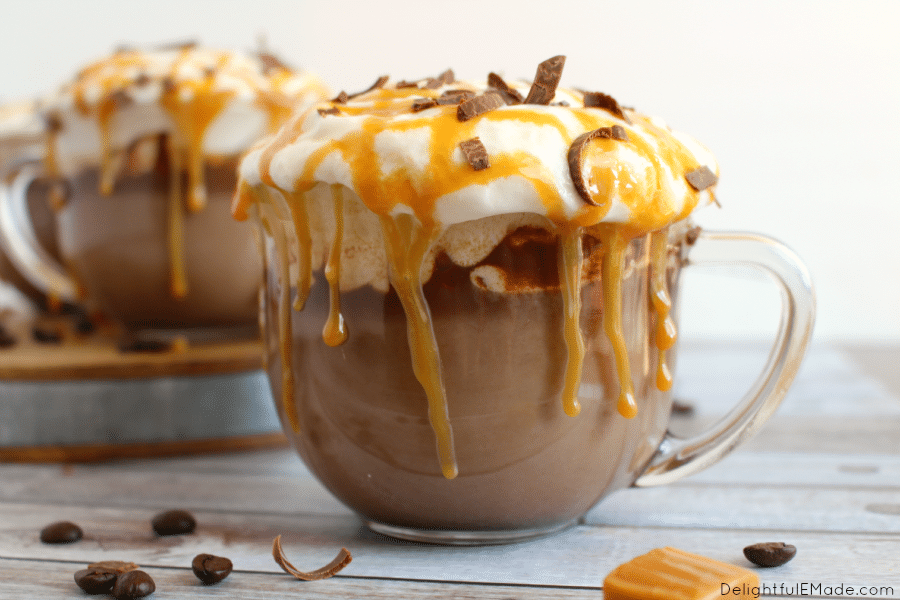 Gather for Bread posted this recipe for a warm day but the coffee and caramel can also be enjoyed on the fall. You need to check this drink out if you are a fan of iced coffee.
Now that you have some ideas, you need to pick one and go try it today. If you need help picking out a way to brew your coffee, you can see my post that goes over all the different types of coffee makers.
If you have a favorite fall drink, leave it in the comments below! Happy Fall!